The Buddy-Programme Natural.PALS initiates subject-specific study-partnerships between local students and new international students in Natural Sciences at Ruhr-Universität Bochum.
As a local student, you support an international fellow student as a peer-tutor in the introductory phase of studies: You share your "inside" knowledge of the particularities of study organisation, teaching and examination as well as methods and learning strategies.
As an international student, you gain orientation at the faculty, the university, and in Bochum, and establish first contacts to local and international fellow students.
Current information: The Buddy-Programme Natural.PALS cannot take place this WS 20/21. Updated information will be published here beginning/mid 2021.
---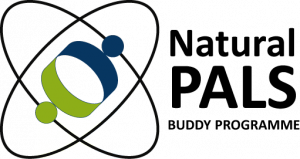 Information:
> Article on news.rub.de (07/2019)
> Article on news.rub.de (01/2018)
Why should I participate?
As an international student, you benefit from the knowledge and experience of your Buddy as a first peer-contact at your faculty. You receive support in subject-specific matters and in acquainting yourself with your field of studies. Moreover, you meet fellow students from all over the world, gain experience in working together with people from different cultural backgrounds and improve your intercultural competence. This way, you acquire transferable skills beneficial both at university and in globalised working environments.
You can read testimonials of former participants here (currently in German only): ⇒Testimonials.
Who can participate? – Prerequisites for participation
The following degree programmes take part in the buddy-programme:
Students in these degree programmes are eligible if they meet the following prerequisites:
(prospective) international students
– higher education qualification or first university degree acquired abroad and
– enrolled in the 1st or 2nd semester of one of the above-mentioned degree programmes
Please note: Applicants in their 1st semester will be considered with priority.
as local students | peer-tutors: Bachelor's students in at least 3rd semester or Master's students (1st semester or higher) at the time the programme starts
We expect all participants to be open-minded, interested in other cultures, and reliable.
Buddy-Programme Bachelor
Buddy-Programme Master

international students: 1st year


+
local students: 3rd semester or higher

international students: 1st year


+


local students: 1st semester or higher

How is the programme scheduled?
After the application deadline, we will try to find a complementary Buddy for you through a matching procedure.
Throughout the semester, you will meet with your Buddy regularly for individual peer-tutoring sessions which you plan independently. For example, you can prepare or wrap-up course contents, discuss assignments or texts, or prepare for exams. At least half of the overall time of your meetings, you should work on study-related or subject-specific topics; the remaining time may also be used for cultural or other activities.
At three central events (Kick-off Meeting, Reflection Session, Final Meeting), you will meet other participants, share your experience, and exchange ideas. Finally, you will reflect upon your experiences in a concluding report.
Local peer-tutors additionally attend an initial training to prepare for their task as a peer-tutor. At the end of the semester, a feedback panel will take place.
The exact schedule of the programme is different for local and international students, and also varies depending on your degree programme. Detailed information can be found here: ⇒Schedule.
Can I get (transferable) credit points?
Students of the BSc and MSc programme Biology can have their participation recognised for elective modules (BioPlus/Optionalbereich/Internationalisierungsbereich) by 4 Credit Points (CP).
How can I participate?
Detailed information on how to apply can be found here: ⇒How to apply.